Yesterday, Thursday February 4th, was Car-Free Day in Bogotá, a long-time tradition in the city. To celebrate, Despacio, alongside CityParking and Bicivilízate (our partner in Chile), decided to carry out a number of activities at the intersection of Carrera 11 and Calle 84. Despacio set up a small stand offering free basic bicycle maintenance to all visitors. We also held a contest asking people to guess how many bikes could fit in a car parking space. Finally, Despacio celebrated the recovery of pedestrian sidewalk space and the inauguration of the new in-road bike route along Carrera 11 with various activities. We chose Carrera 11 (11th Avenue) because it is a major commercial area, with heavy bike, pedestrian, taxi and bus traffic.
«Pampered Bikes»: Free simple maintenance
There a lot of factors that make riding a bike an enjoyable experience. Comfortable, safe, coherent infrastructure is crucial (more information in the forthcoming «bike infrastructure guide for Colombian cities»). So is having a bike in good condition, with functional brakes, inflated tires and a seat at the proper height (among other things). For that reason, Despacio invited a professional bike mechanic to help provide simple tune-ups and make people's biking experience more comfortable. In the end, about 15 people came by to enjoy this free service.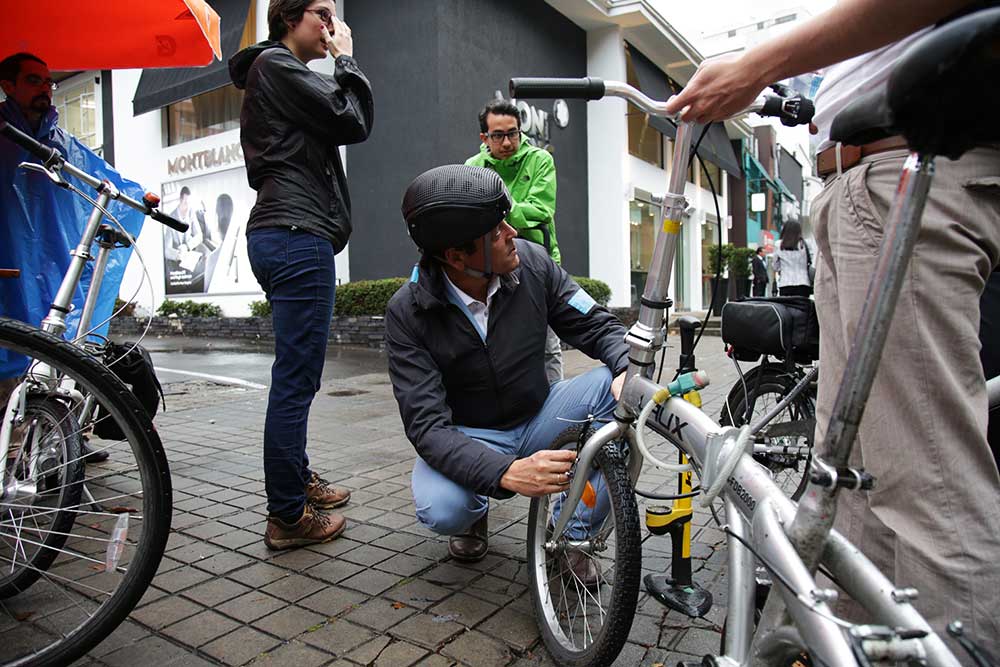 How many bikes fit here?
Yesterday, Despacio also asked people to guess how many bicycles could fit into a car parking space. People who guessed correctly received something from the Despacio Kit. Do you know the answer? Three people guessed almost exactly right and got a reward. Thanks for participating!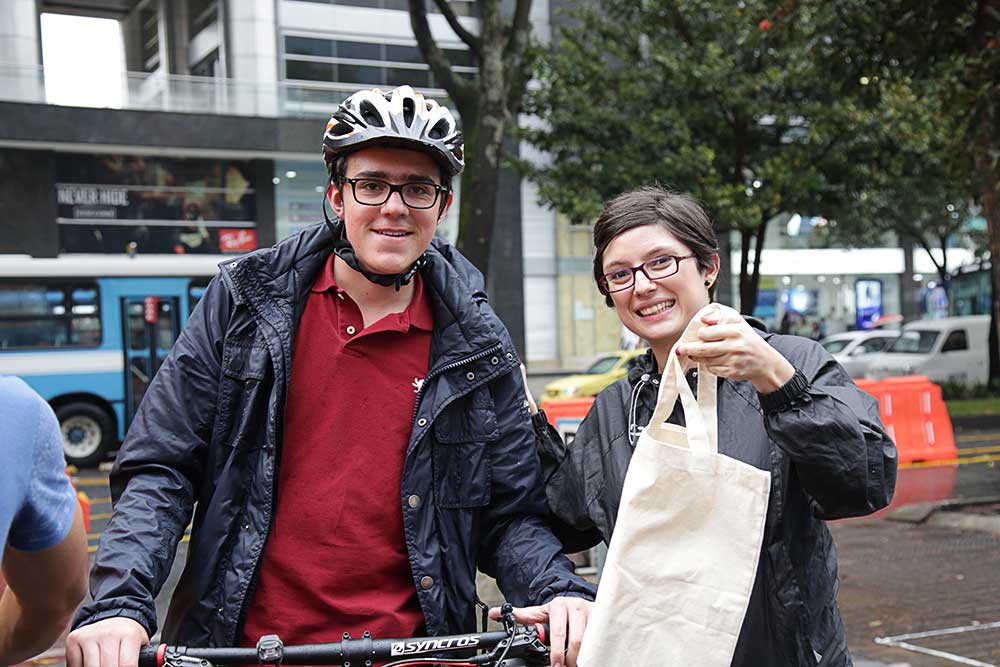 Intervention along the old Bike Route
Yesterday also saw the unveiling of a new bike route along Carrera 11 (and a new type of bike infrastructure). Previously, there was a bike route on the sidewalk; however, this configuration created conflicts with pedestrians, bus stops and cars in intersections. Now, there is an in-road bike route along the eastern portion of the road between Calle 82 and Calle 100. This gives bicycle users a segregated space free of obstacles and conflicts in intersections and gives pedestrians space once again to walk and wait for the bus in peace.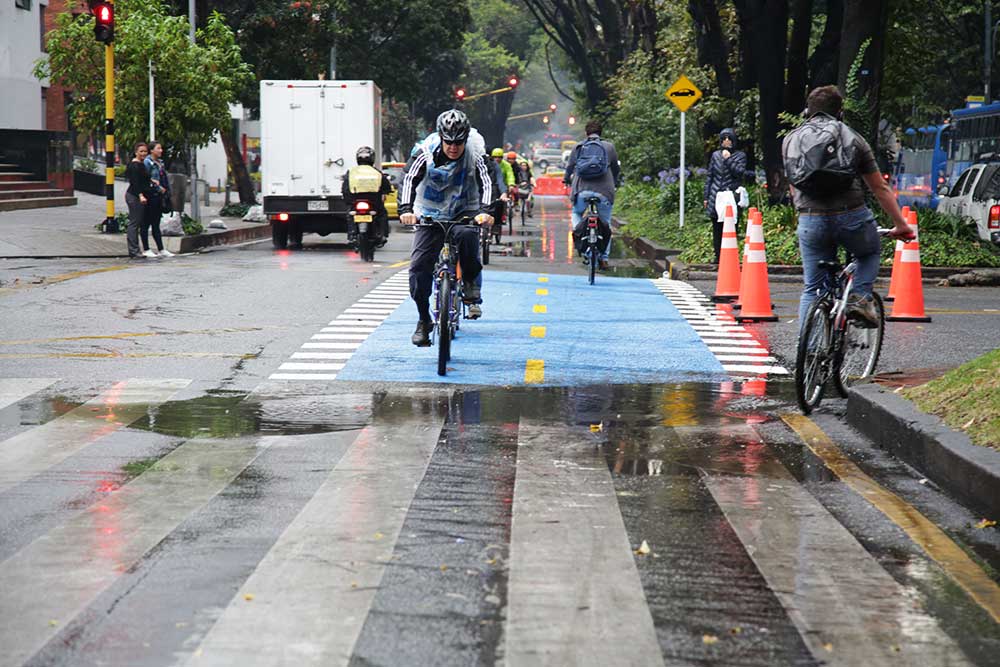 We placed a piece of artificial turf and chairs over the old route to emphasize that the space was once again for pedestrians. This allowed us to talk about the new infrastructure configuration with passersby.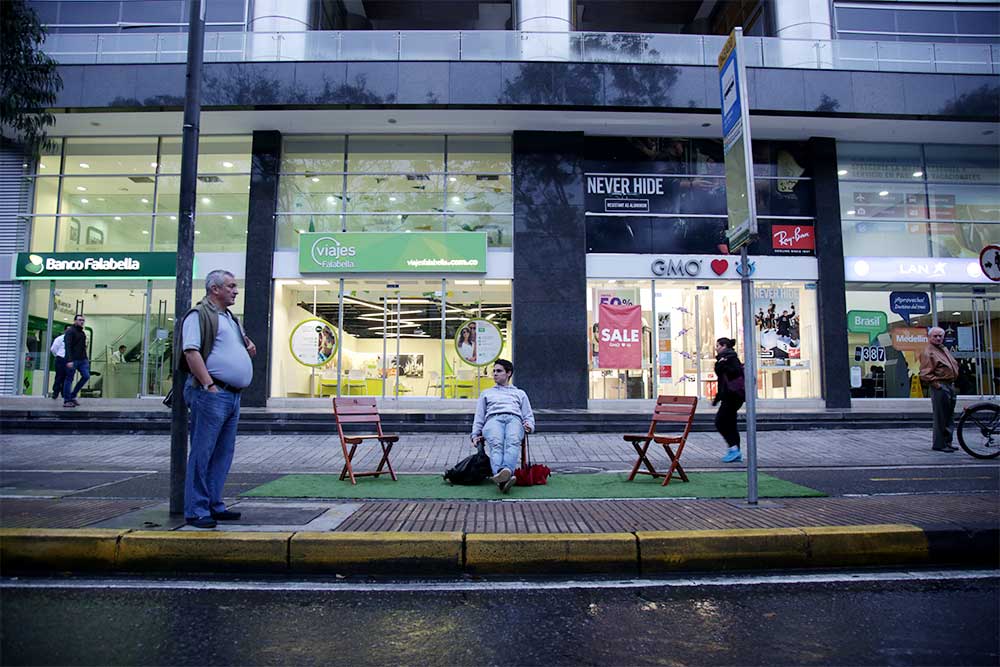 Thanks to everyone who visited our stand (despite the downpour!), to our volunteers, and to CityParking for lending us the space.
Despacio se llega lejos («Slowly you get far»)