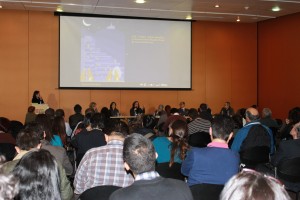 On Friday August 1st, Despacio in conjunction with Asdluz (Colombian association of lighting designers) hosted the forum «Imaginemos la Luz» (imagining light), a day-long event focused on sustainable urban lighting planning and its potential applications in Bogotá. The event was held at the Bogotá Chamber of Commerce (CCB). It began by asking attendees and speakers alike to conceive of urban lighting as a complex intersectional topic linked to safety, health, light pollution, cultural expression and even the life cycles of non-human animals.
The event included international lighting experts, who drew on their professional experiences to contribute to the debate about urban lighting. All presentations are available here and the video of the event here.
The event concluded with a panel of recommendations for urban lighting in Bogotá, in which the speakers discussed and presented their views on safety, a lighting master plan for the city and nighttime culture, among other topics. The event was a great success with many attendees and mentions of the event in several media outlets.
Our sincerest thanks to the Bogotá Chamber of Commerce and the Hotel Cité Bogotá for helping make this event happen. Going forward, we will continue to help CCB in implementing some of the experts' recommendations. The presentations are:
1. Leni Schwendiger from ARUP
Shining, passionate cities from deespacio
2. Linnaea Tillet from Tillet Lighting Design
planning from the ground up from deespacio
3. Jessica Jacob from Findeter
Financing lighting and energy efficiency from deespacio
4. Alberto Bañuelos from Starlight
Responsable lighting in cities from deespacio
5. Paulina Villalobos from Noche Zero
The future of urban lighting and the value of night from deespacio
6. Carlos Jaimes from UAESP
Lighting in Bogotá: policy and projects from deespacio
7. Julia Erlhöfer & Alfredo García from ClaroOscuro and Asdluz
Proposals and projects to improve lighting by deespacio